Everything is Right About This Place
This place already has so much going for it…
This page is about the house itself and Elmira itself. And all the good things it's got going for it.
How things are at the Seth House already are pretty darn good…
So this is about saying what it's already got going for it.
Helping the Elmira economy and beautifying one house on a very busy thoroughfare could add much to the self-esteem of the town. Finally calming one of their most notable whatsits, this could be Elmira's most remarkable claim to fame, time to give the town something else to be proud about living here.
---
THE HOUSE ITSELF
The building was originally built as a mansion in 1888. It was converted into an apartment building in the 1930s which it has remained ever since. There are eight apartments in the main house. Jane & Rob occupied apartment #5 for fifteen years, then also rented apartment #4 as an annex and office for four years. Both are on the second floor.
It is our aim to open these rooms up for public access and to decorate them comfortably and as closely as possible to how they looked back in the day when the books were being written.
It's a fixer upper and that's good too because we can put our hearts into bringing out the best that it can be.
This is where Seth spoke and gave us his important messages and insights for 12 years. What if we could visit this place and simply enjoy it together? We are a better collective human experience for the remarkable events that happened here… and in a timeless reality it is still happening here… at The Seth House.
---
OUTSIDE – THE GROUNDS ARE BEAUTIFUL
The grounds are beautiful with room to grow. There are old trees, spacious green lawns, ample garden space, all of which can be manicured and cultivated to be the pride of the neighborhood. Cute tea houses and cozy gazebos can be set up for multiple uses year round.
Nice yard pretty gardens, fountains. Already old established trees. Sitting areas. Grapes crawl over the back fence every year.
There is also a very large "Carriage House" toward the back of the property. It boasts a six car garage on the lower level and a four bedroom living area on the top 2 floors. This can be converted into comfortable lodgings for guests and a useful space for a retreat facility. There is room for over 20 cars to park on the property comfortably. There is plenty of garden space around this building and seating areas for outdoor conversations too.
---
A Beautiful River is Across the Street


Right across the street is the Chemung River with miles of delightful pathways through lush trees, forest and waterways.
Close by river walks. The house is located right across the street from the Chemung River and the Walnut Street Bridge. You are only steps away from duckies and geese and trails leading into forests that meander beside the river. You may walk for peaceful miles and enjoy your nature time.
---
The Neighborhood – An Easy Walk to Downtown Elmira and Local Shops
Located in Elmira's Near Westside Historic District, it's surrounded by lovely old houses and only three blocks from the downtown district with local shops and eateries. Heading east from the house you are just a few of blocks from downtown Elmira.
There are shops, eateries, parks, and quaint old homes up and down the streets to admire. There's also a gym, bicycle rental, and a couple of pubs. You won't go hungry because there are tea & coffee shops like urtle Leaf Cafe, and Downtown Grind Coffee & Tea, Light's Bakery, Beijing Garden Chinese restaurant, and McDonald's isn't far away either. Holistic places like "The Healing & Learning Center", and "Heart to Heart Yoga Studio" and "Live Well Upstate".
To walk through the area, click this link to Google Maps and drag the "yellow man" to 458 West Water Street.
---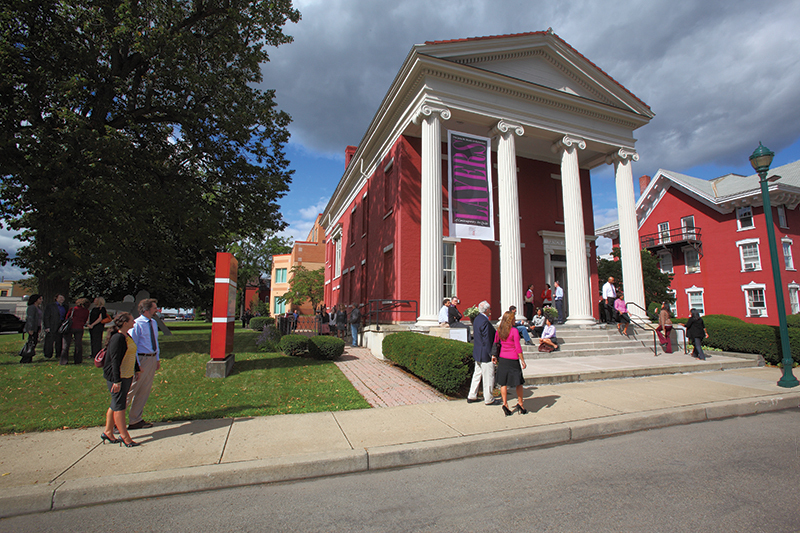 Walk where Jane & Rob walked.
See Places they saw.
See where Rob worked at Artistic Greeting.
The restaurant that their landlord owned and is still in the Pazziani family.
The house on Bohemia Lane that they almost bought (Seth recommended) in 1964.
Walk the sidewalks Jane walked when she sold Avon products all over Elmira.
St Joseph's hospital, where Jane passed from physical reality.
---
Historic Elmira
Ask anyone you meet in Elmira and they will be happy to tell you all about The Flood of '72. An event which was written about in "Nature of Personal Reality"
---
Mark Twain
Seth & Jane Roberts are not the only notable authors this town has produced.
No less than Samual Clemens (aka Mark Twain) lived here and is buried just a few miles away. There are public buildings and other places named after him, including the Clemens Center. And his wife xx Langdon family was influential.
By the way, Elmira was the former home of Mark Twain. He is buried at a local cemetery just a few miles away. So you will find much honor paid to him in this town. His old writing cabin was moved to Elmira College and is visited by admirers of his work year round.
---
"Location. Location. Location."
To the left is a sign that is seen when entering Elmira from the east. It shows people who lived here who made a name for themselves. Someday that sign will have Jane Roberts on it.
The Seth House is ideally located just 20 minutes from the local Elmira-Corning Airport, so we can easily welcome visitors from around the world.
It's also in the heart of town in a very visible location.